Harustie 8
Helsinki, Rastila
Average

Excellent (general condition of the property)
Services
Property includes the following services
For exchange students

Laundry

Sauna
Examples of floor plans
Asuntotyyppi Room , Koko 13 Neliömetriä , Vuokra 275 Euroa
Asuntotyyppi Two room apartment , Koko 68 Neliömetriä , Vuokra 732 Euroa
Asuntotyyppi Two room apartment , Koko 46 Neliömetriä , Vuokra 561 Euroa
Asuntotyyppi Furnished room , Koko 13 Neliömetriä , Vuokra 427 Euroa
Renovated student apartments close to Rastila metro
These light-coloured buildings stand next to the greenery of the Haruspuisto park, within walking distance of the Rastila metro station. This property in Meri-Rastila, Vuosaari, is well connected to the centre of Helsinki and the beautiful parklands and beaches of Rastila and Kallahti are also within easy reach.
The property has been renovated fully in 2017. The apartments are light in colour. The kitchen cupboards are white and a darker shade. The floors are vinyl plank. The bathroom walls are tiled.
The green yard area includes a grilling area for the tenants.
The Harustie 8 property has shared apartments and family apartments.
Exchange students
Furnished apartments in this address are rented to exchange students.
The furnished apartments in this building are rooms in a shared apartment. Each tenant has their own private room, but common spaces such as the bathroom and kitchen are shared with other tenants of the apartment. Read more about furnished shared apartments here
Check out a video of the property:
Basic information
Basic renovation year
2017
Internet
Included in the rent
Heating costs
Included in the rent
Water charges
Included in the rent
Furnished apartments for exchange students
Yes
Rental objects
Furnished apartment for exchange student, Parking, Room, Two-room apartment
For exchange students
Yes
Housings in the area
Apartments available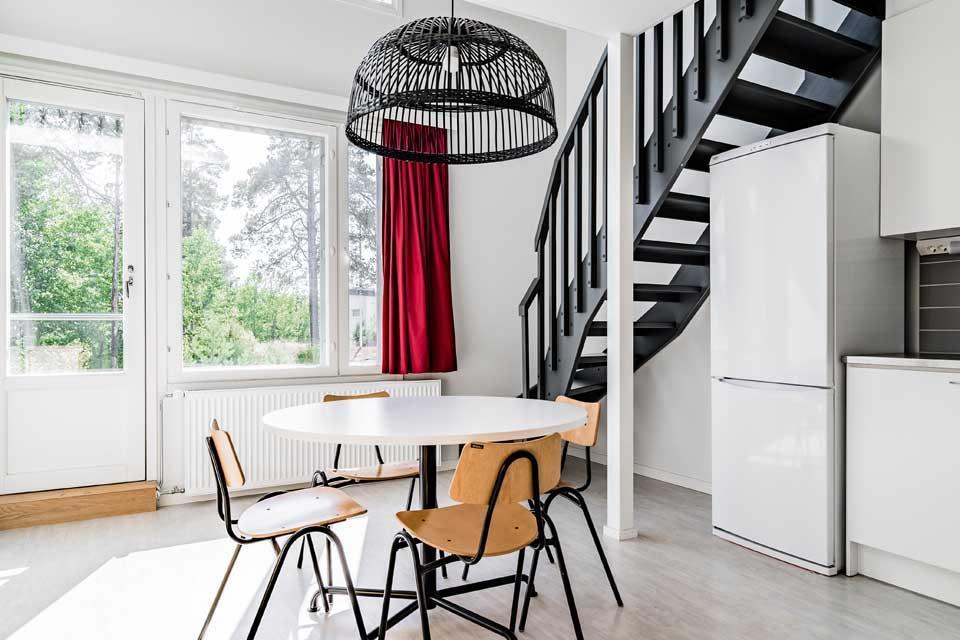 Harustie 7