Together with the tenants, we came up with ways for smoother shared housing
In November, we invited a group of shared housing tenants to come up with ideas for ways to facilitate shared housing. In a two-day workshop, we aimed to identify issues that complicate the early stages of shared housing and find ways to solve them. We would like to make the shared apartment feel like home from the very beginning.
Three suggestions for more comfortable shared housing emerged: Feel-o-meter, Hoas-match 2.0 and Tenant profile. In February, the proposals were sent to the Hoas shared housing tenants for evaluation and voting. Tenants voted the Tenant profile to be the most useful proposal. It received 52% of the total of 448 votes cast.
Feel-o-meter
Every month or so, shared housing tenants receive a short survey to map the atmosphere in each apartment. Through the meter, tenants receive feedback on how coexistence with their roommates works, solutions to conflict situations, and a channel through which to contact Hoas' tenant counselling. At the same time, Hoas gets valuable information about the residential comfort. The questions relate in particular to the topics known to cause friction in shared apartments: cleaning the apartment, peace at night and communication between tenants.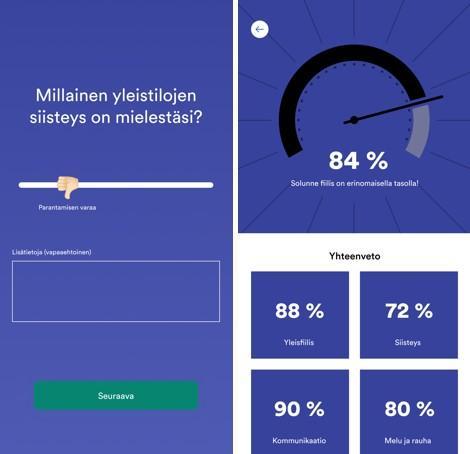 Hoas-match 2.0
When applying for an apartment, the applicant lists the most important criteria for the shared housing and gets to browse and choose the apartments that are best suited for them. The applicant submits an application to the shared housing that best meet their wishes.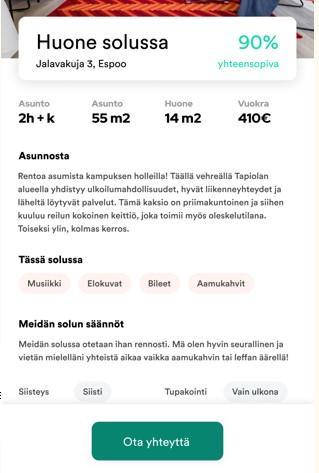 Tenant profile – People make the apartment home
The applicant creates a profile of themselves when applying for housing. The profile is compared to the corresponding profiles of the tenants and the applicant is offered a room in an apartment whose tenants' lifestyle best matches the applicant's expectations. Through the profile, the current tenants of the shared housing can also get to know the new tenant in advance – without compromising privacy.
5 Wolt gift cards were drawn among all voters. Gift cards were drawn on 3 March and the winners were informed in person. Thanks to all who participated in the assessment!
How to proceed?
As the comments of the voters also indicated, it is most useful to incorporate parts of these three concepts into further development. Hoas' digital systems are being redesigned this year, and with it the way in which housing is sought and offered will be changed. The aim is to provide the applicants with more information about the apartments in advance.
Comfort during housing was systematically surveyed with tenant surveys in December. Surveys are sent monthly to selected properties. According to the results obtained by the end of February, shared housing tenants are the most satisfied with their housing conditions!